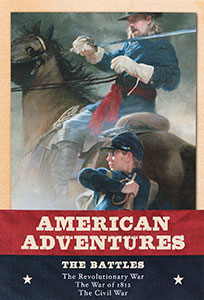 AMERICAN ADVENTURES: THE BATTLES
Stories written by Trinka Hakes Noble
Illustrated by Robert Papp
Sleeping Bear Press, April 2013
ISBN-13: 978-1-58536-861-7
Paperback  88p.   U.S. $9.99
The American Adventures series features a trio of fictional stories highlighting moments in history, with content from the popular Tales of Young Americans series. The Battles contains three stories focusing on key American wars: the Revolutionary War, the War of 1812, and the Civil War. The first is The Scarlet Stockings Spy, written by Trinka Hakes Noble.  The second is The Town that Fooled the British, written by Lisa Papp. The third is The Last Brother, written by Trinka Hakes Noble.
Artwork by noted illustrator Robert Papp heightens the drama, bringing to life these rich chapters of American history.
"This colorfully illustrated paperback from the American Adventures series presents stories in which children make contributions to American wars. Sometimes dramatic and occasionally poignant, the stories are always accessible. The title and cover art will help this short story collection find its audience." (Grades 3–5)
– Carolyn Phelan, Booklist Online, American Library Association, May 2013
Available at Amazon.com, BarnesandNoble.com and your local independent bookstore.