THE PEOPLE OF TWELVE THOUSAND WINTERS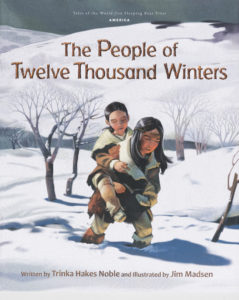 Written by Trinka Hakes Noble
Illustrated by Jim Madsen
Sleeping Bear Press, March 2012. 32p.
ISBN-13: 978-1-58536-529-6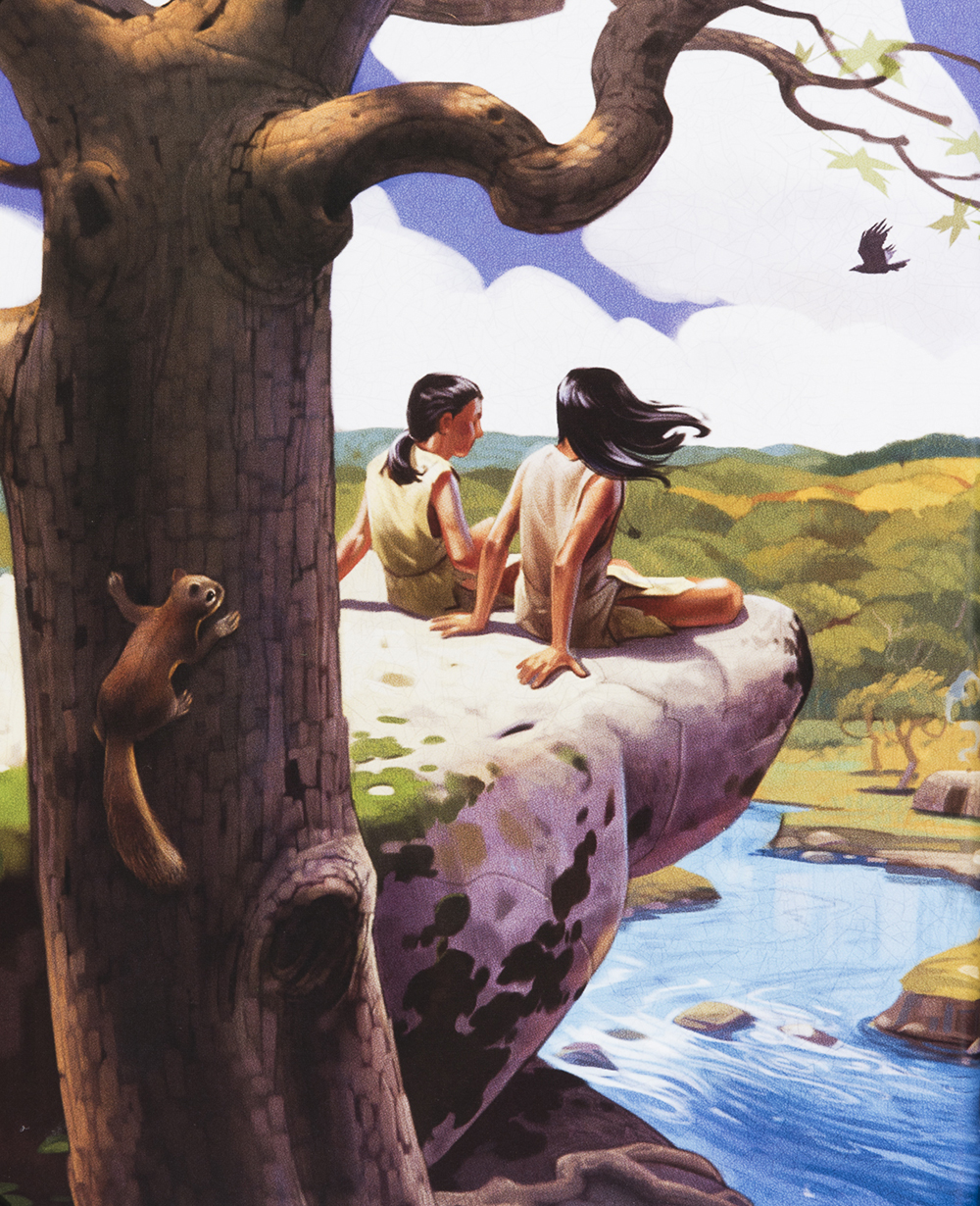 Ten-year-old Walking Turtle is of the Lenni Lenape tribe.  He lives with his family in a small village alongside the headwaters of the Passaic River in what will become northern New Jersey. They live a peaceful life, with nature offering up a bounty of resources for food and shelter.
Walking Turtle is close to his younger cousin, Little Talk. He feels protective of Little Talk, who has difficulty walking. Together they roam the forests near their village with Walking Turtle carrying his cousin on his back.
But in the autumn of Walking Turtle's tenth year, his father tells him that soon he must leave childhood friends behind and begin warrior school. Walking Turtle worries about what will become of Little Talk when he leaves for his training.
Set in the early 1600s before Europeans settled on America's shores, award-winning author Trinka Hakes Noble tells the touching story of a Lenni Lenape boy standing on the cusp of childhood and moving into manhood just before his people's lives are changed forever.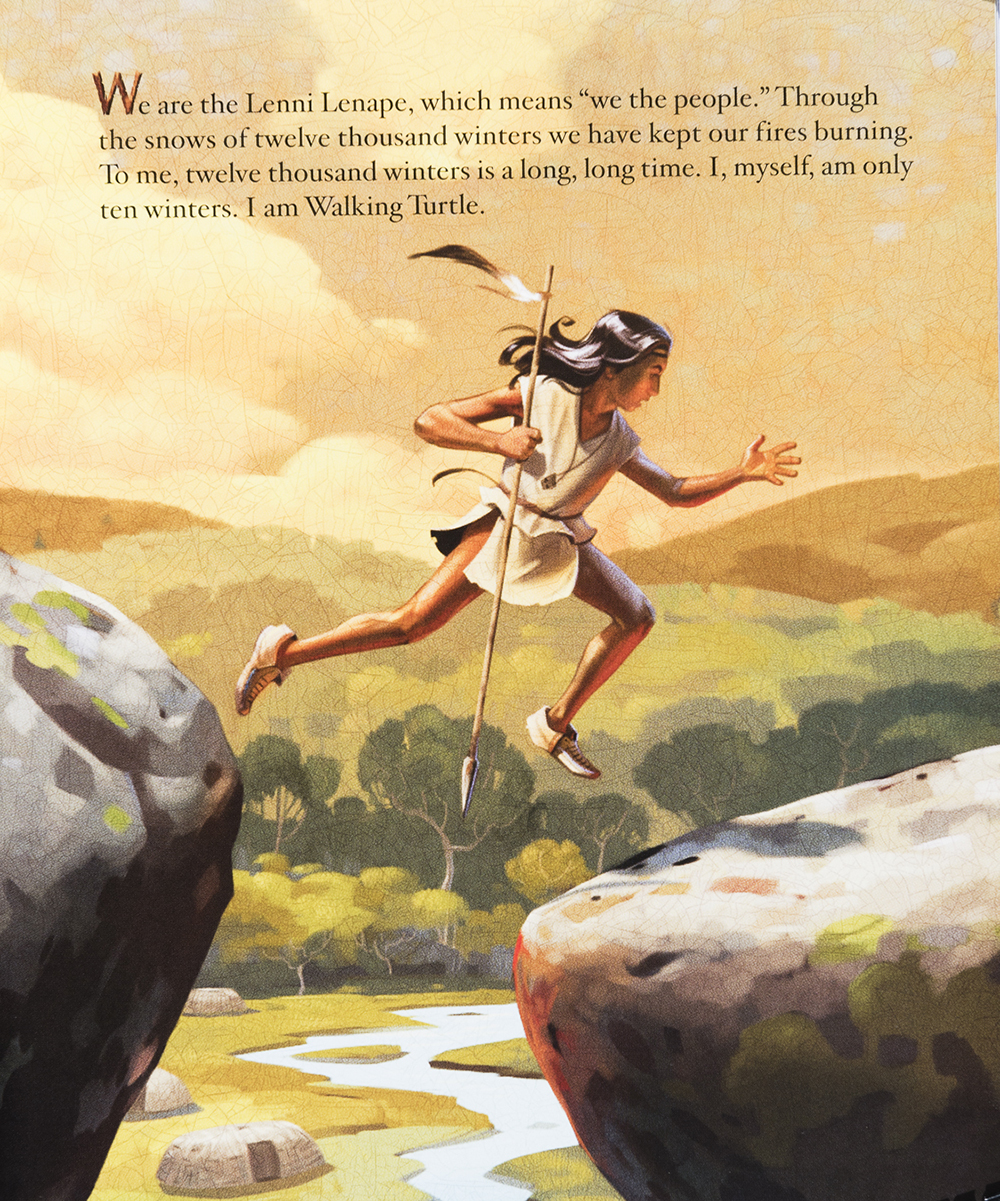 "A marvelous story that rings with strength and wisdom…this selection excels."
– Books to Buy, Books to Borrow by Kendal Rautzhan, April 2012  
"Glowing paintings show the bond between the two boys set against the landscape and customs of their community, including the dramatic Giving Thanks Ceremony in the Big House, when their leader tells them to be caretakers of their great land. A moving glimpse of what has been lost."
– Booklist, May 2012
"…romanticized tale is a pleasant introduction to the Lenni Lenape. Nicely painted views of the surrounding terain, daily activities, and the boys (Walking Turtle and Little Talk) create a good sense of people and place…"
– School Library Journal, May 2012
"In my opinion, the hallmark of a truly great picture book is its ability to captivate the parents as well as the children. A well-written, beautifully illustrated picture book should be just as engaging for the parents to read aloud as it is for the child to hear. The People of Twelve Thousands Winters meets my criteria for an enduring classic picture book. I loved this book, as did all of my daughters." – Tess Hamre, The Old Schoolhouse Magazine: For Homeschool Families, May 2012
Nominee for the Pennsylvania Keystone to Reading Elementary Book Award 2013-2014 (Intermediate)
Available at Amazon.com, BarnesandNoble.com and your local independent bookstore.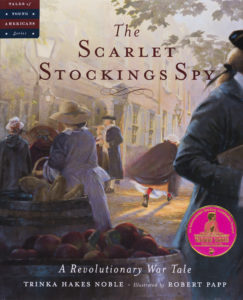 THE SCARLET STOCKINGS SPY
Written by Trinka Hakes Noble
Illustrated by Robert Papp
Sleeping Bear Press 2004 ISBN 1-58536-230-1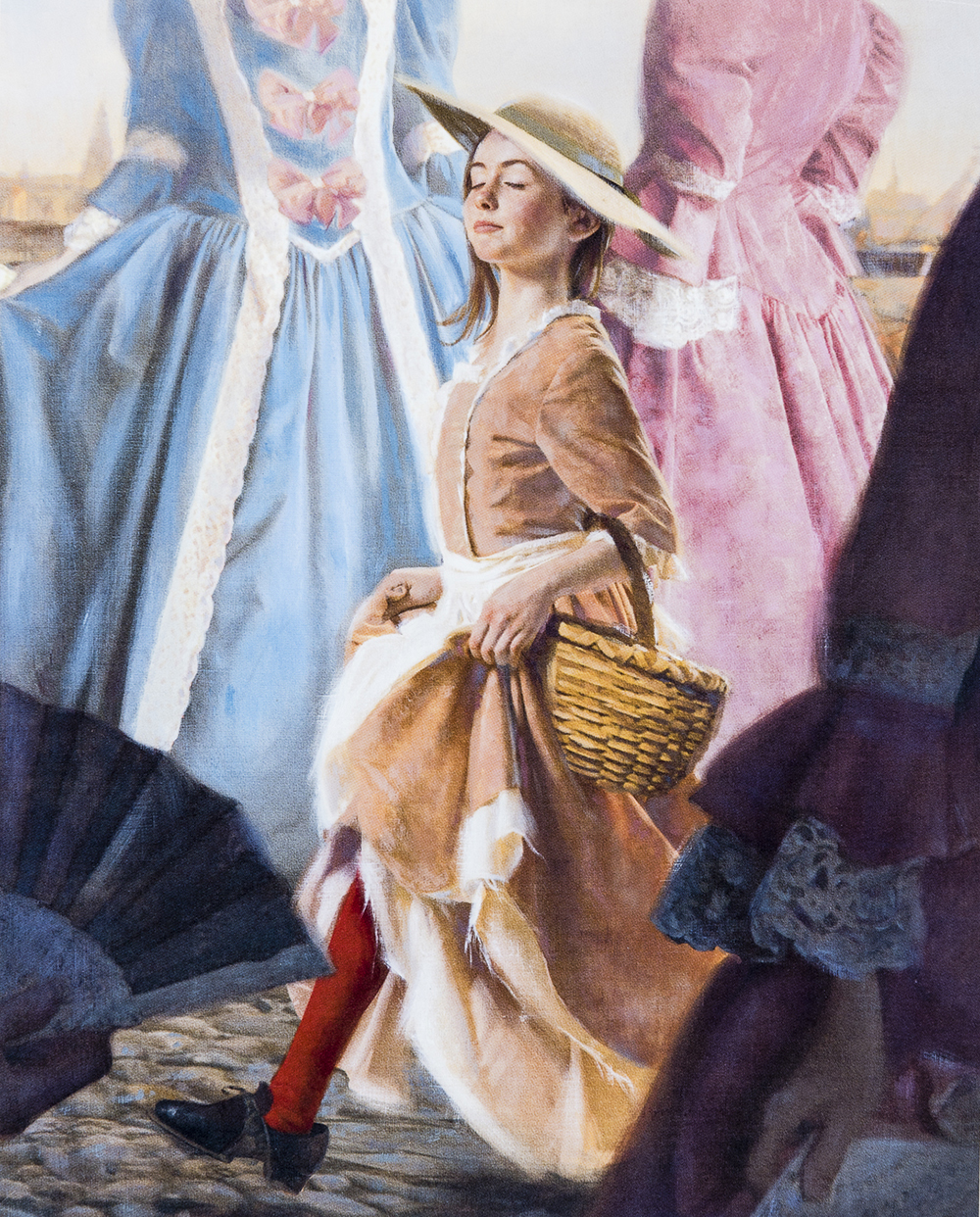 In the fall of 1777, Philadelphia sat twitching like a nervous mouse. The British were going to attack, but no one knew where or when.
Uncertainty settled over the city like soot. Suspicions skulked through the cobblestone streets like hungry alley cats. Rumors multiplied like horseflies. Spies were everywhere.
But one little spy moved through the streets unnoticed, even though she wore scarlet stockings. Her name was Maddy Rose and she lived with her mother and brother in the Leather Apron District, next to the harbor, where the city's tradesfolk lived and worked in narrow brick row houses.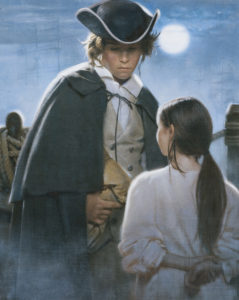 Even the smallest of citizens can play the largest of parts when the birth of a nation is at stake. A suspenseful tale of devotion, sacrifice, and patriotism during the American Revolution.
"There are very few hardback picture books that I would recommend you buy for your Revolutionary War history study, but this is one of them." – The Old Schoolhouse
• North Carolina Children's Book Award Nominee 2007
• Nebraska Golden Sower Award Nominee 2007-2008
• New York State Reading Association Selected Reading List
• Learning® Magazine 2007 Teachers' Choice Award
• International Reading Association's Teacher's Choice Award 2005
• Chicago Book Clinic's Crystal Book Award of Excellence 2005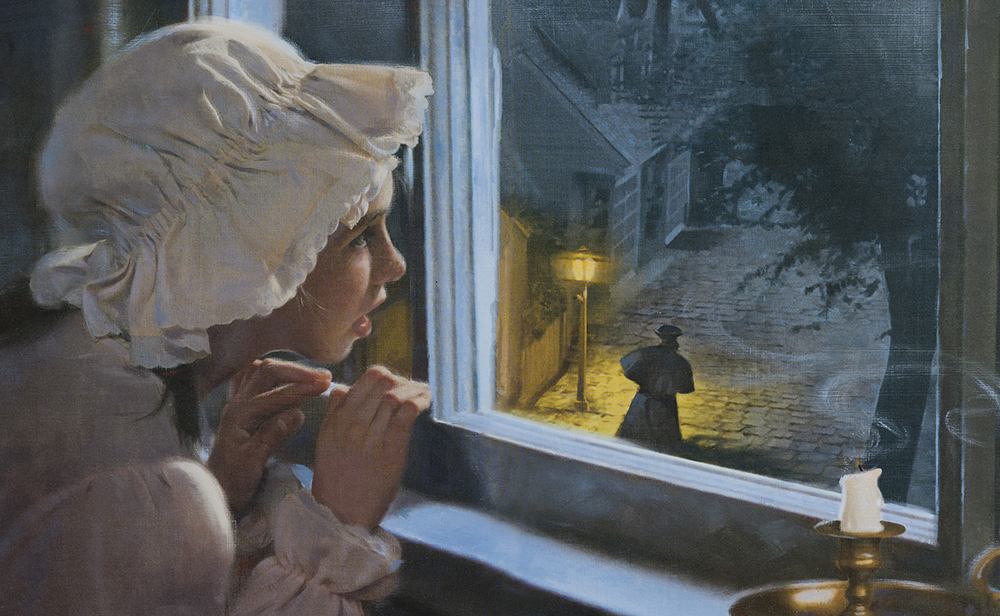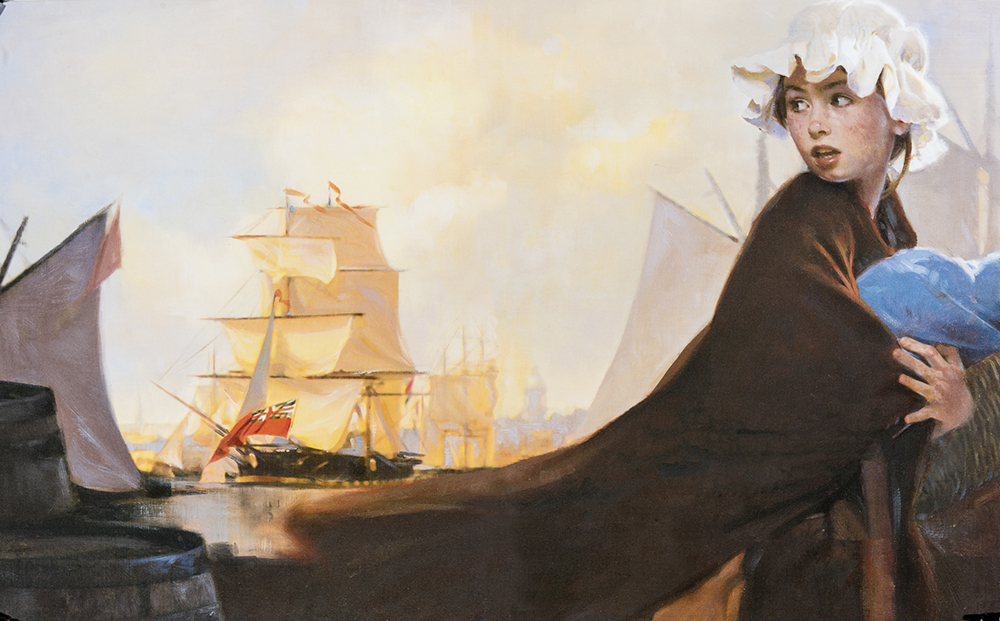 Available at Amazon.com, BarnesandNoble.com and your local independent bookstore.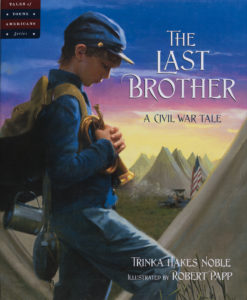 THE LAST BROTHER: A CIVIL WAR TALE
Written by Trinka Hakes Noble
Illustrated by Robert Papp
Sleeping Bear Press 2006 ISBN 1-58536-253-0
Gettysburg, July 1863: Union and Confederate troops arrive, ready to face off. The stage is set for what becomes one of the pivotal battles of the Civil War.
Though he's only eleven years old, Gabe is a bugler in the Union Army. There are over 60 battle calls for him to learn. But even more important to Gabe is watching over his older brother Davy, who is in the thick of the battle. Davy is Gabe's last brother. But then Gabe meets Orlee, a young Confederate bugler. Now things aren't so clear. Does one have to choose between service to country, to kin, or even to a new friend?
"This book held me spellbound. The story and paintings are a match made in publisher's heaven." – Frank Hodge – Hodge Podge Books
"Story resonates with courage and fear, love and loyalty. Will spark discussion about the Civil War and how people can be friends even if they have different beliefs." – School Library Journal 
"A good choice to add to your children's library shelf." – The Old Schoolhouse 
• Louisiana Young Readers' Choice Award Nominee 2009
• Pennsylvania Young Reader's Choice Award Nominee  2008-2009
• Missouri Show Me Readers Award – Preliminary Nominee 2008-2009
• South Carolina Young Reader's Award Nominee 2008
• NYSRA Charlotte Award Committee Selected Reading List 2008
• IPPY Award Bronze 2007
• Pennsylvania Library Association – Carol Field Award – Honor Book 2007
• Storytelling Magazine 2007 Honor Award (featured in May/June issue)
• A Scholastic Book Club Selection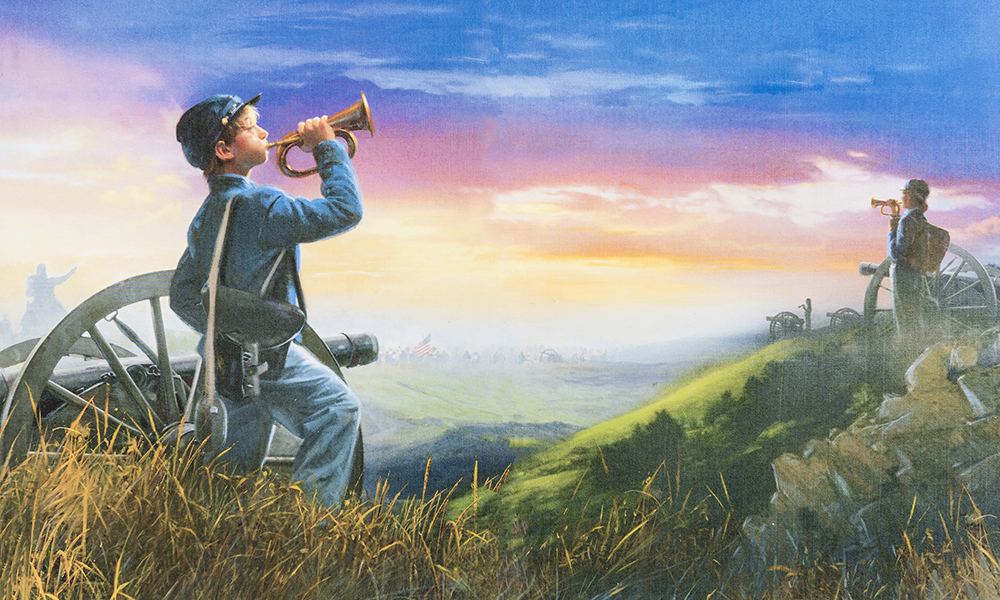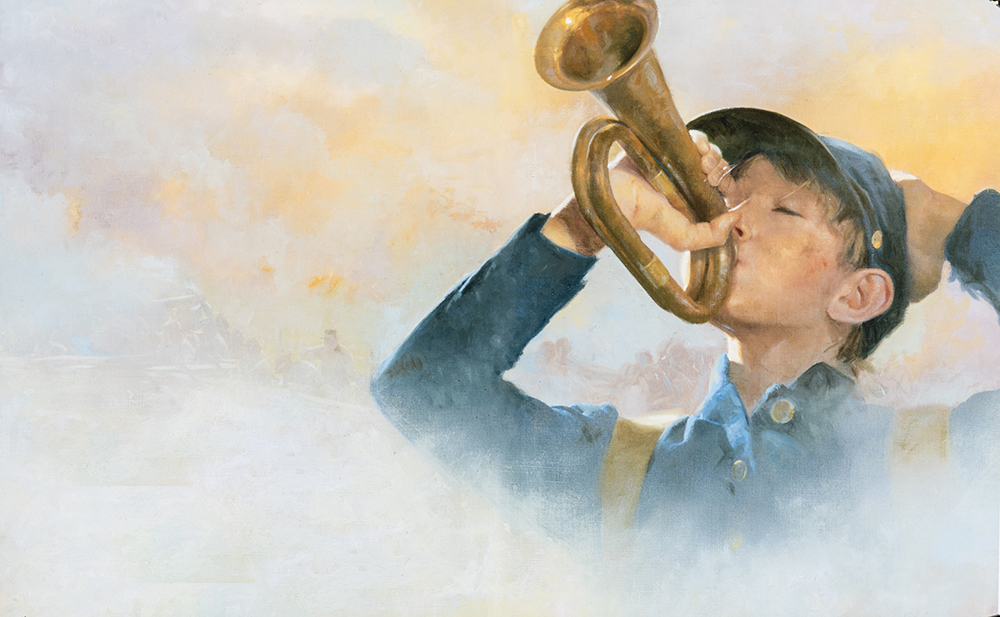 Available at Amazon.com, BarnesandNoble.com and your local independent bookstore.
THE ORANGE SHOES
Written by Trinka Hakes Noble
Illustrated by Doris Ettlinger
Sleeping Bear Press August 2007
ISBN-13:978-1-58536-277-6
Delly Porter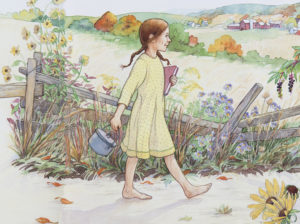 needs new shoes, but doesn't mind because she loves the soft, silky feel of the dirt road beneath her bare feet. She's a good artist, too, even if she has to make her own art supplies. And she loves her teacher, Miss Violet.
 Life only looks brighter when Miss Violet announces the school will have a Shoebox Social to raise funds for new art materials. But when what should be a festive occasion is threatened by prejudice and cruelty, Delly finds out that one must stay true to oneself to successfully navigate life's joys and sorrows.
From Trinka Hakes Noble comes the story of a young girl who learns the most precious things in life are not measured in dollars and cents but by the warmth of one's heart.  And that truth, beauty, and love are in the eye of the beholder.
"In stark contrast to the runaway commercialism of today's Halloween, The Orange Shoes offers readers an old-fashioned story about poverty, creativity and determination. The refreshing, realistic watercolor and pencil paintings match the setting and poignant theme of this powerful story." – The Chicago Sun-Times

"This warm, heartfelt story is suited for sharing aloud with children. A poignant offering." – School Library Journal, September 2007
"Ettlinger's colored-pencil-and-watercolor illustrations are warm, lush and full of detail, evoking the period and simplicity of a small country community." – Kirkus Review, August 2007
"Adella's story touched my heart. The Orange Shoes will be used by teachers and Library Media Specialists to promote discussion and understanding of bullying." – Maureen Stryker, Library Media Specialist of the Year-New Jersey 2006
• Delaware Diamond State Award Nominee 2009-2010

• New York State Charlotte Primary Book Award Nominee 2010
• Arkansas Diamond Primary Book Award Nominee 2009-2010
• Indiana Hoosier State Book Award Nominee 2009-2010
• Missouri Show Me Readers Award Nominee 2009-2010
• Nebraska Golden Sower Award Nominee 2009-2010
• Tennessee Volunteer State Book Award Nominee 2009-2010
• International Reading Association Teacher's Choice Award 2008
• Best Books of the Year 2008, The Children's Book Council of Bank Street College
• Nominated for the prestigious Jefferson Cup Award 2008
• BookSense Children's Picks List 2007-2008
• National Parenting Publications (NAPPA) Honors Award 2007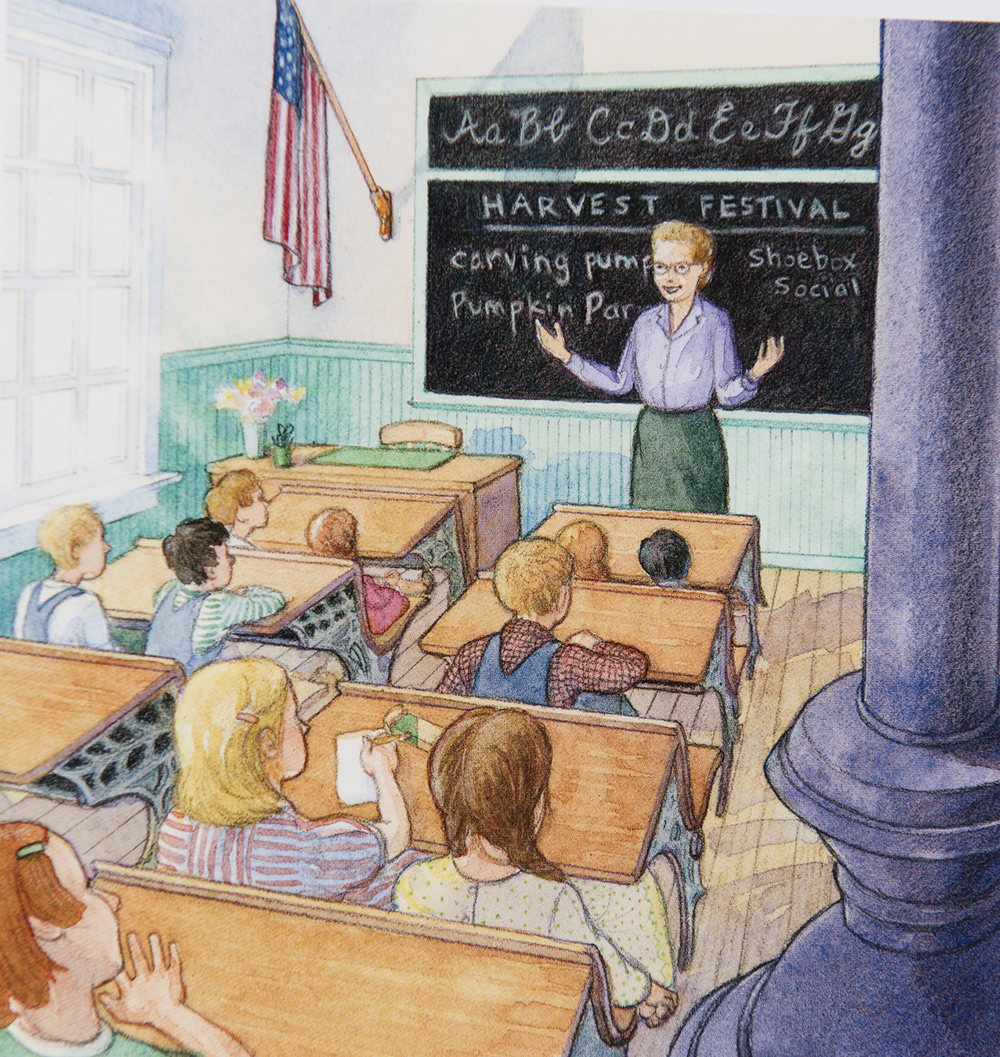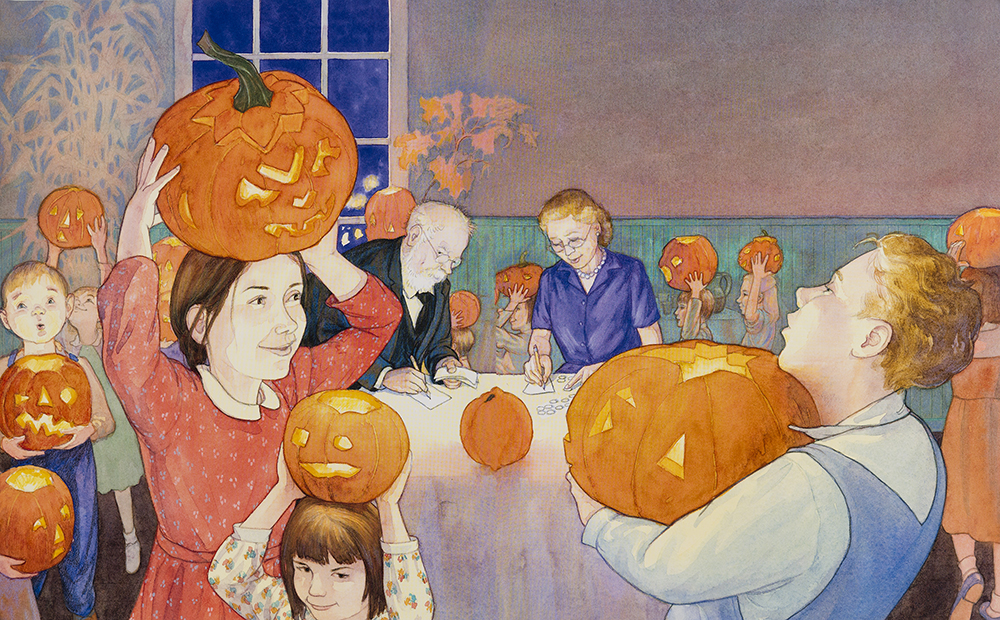 Available at Amazon.com, BarnesandNoble.com and your local independent bookstore.