THE PEOPLE OF TWELVE THOUSAND WINTERS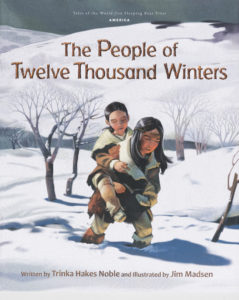 Written by Trinka Hakes Noble
Illustrated by Jim Madsen
Sleeping Bear Press, March 2012. 32p.
ISBN-13: 978-1-58536-529-6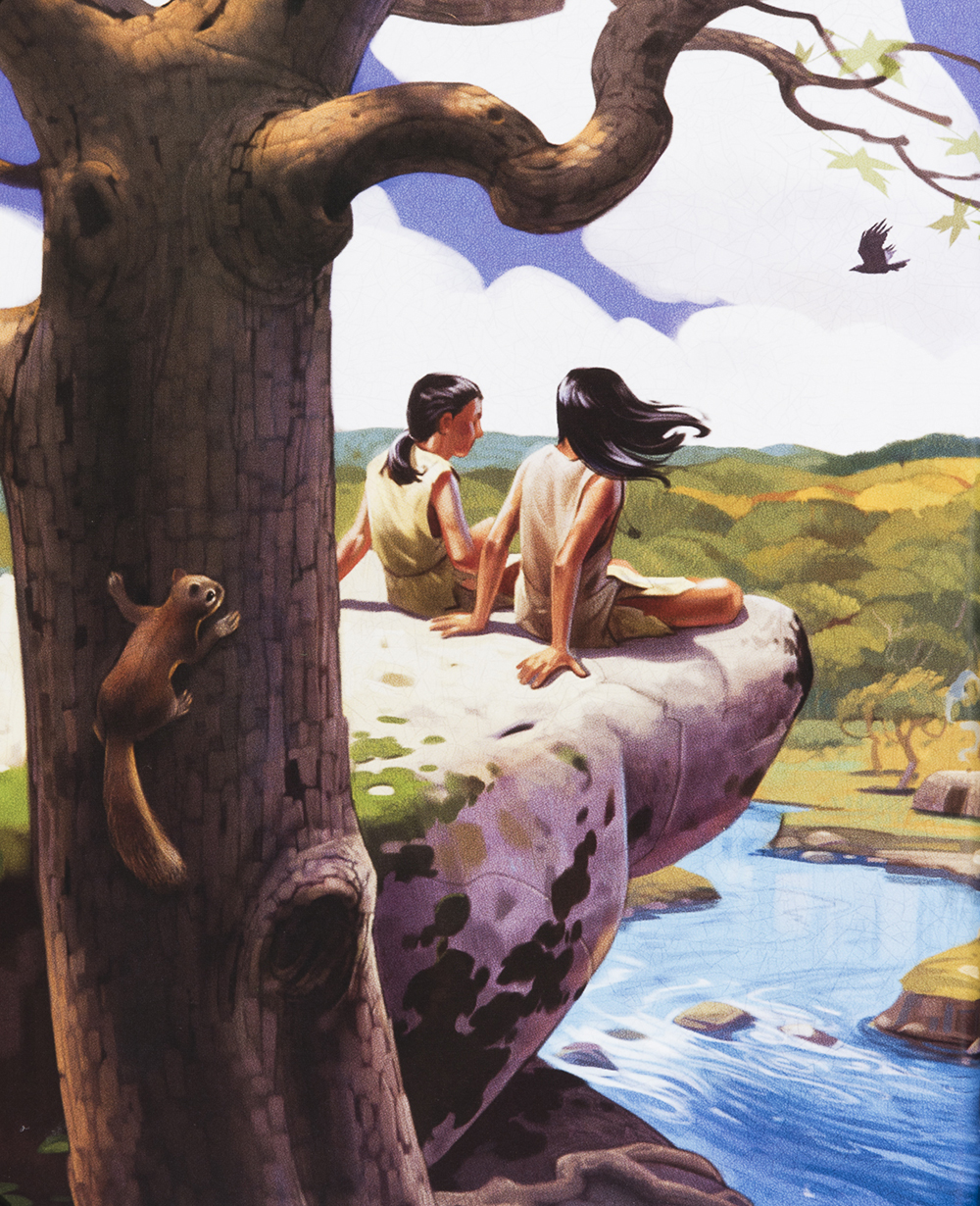 Ten-year-old Walking Turtle is of the Lenni Lenape tribe.  He lives with his family in a small village alongside the headwaters of the Passaic River in what will become northern New Jersey. They live a peaceful life, with nature offering up a bounty of resources for food and shelter.
Walking Turtle is close to his younger cousin, Little Talk. He feels protective of Little Talk, who has difficulty walking. Together they roam the forests near their village with Walking Turtle carrying his cousin on his back.
But in the autumn of Walking Turtle's tenth year, his father tells him that soon he must leave childhood friends behind and begin warrior school. Walking Turtle worries about what will become of Little Talk when he leaves for his training.
Set in the early 1600s before Europeans settled on America's shores, award-winning author Trinka Hakes Noble tells the touching story of a Lenni Lenape boy standing on the cusp of childhood and moving into manhood just before his people's lives are changed forever.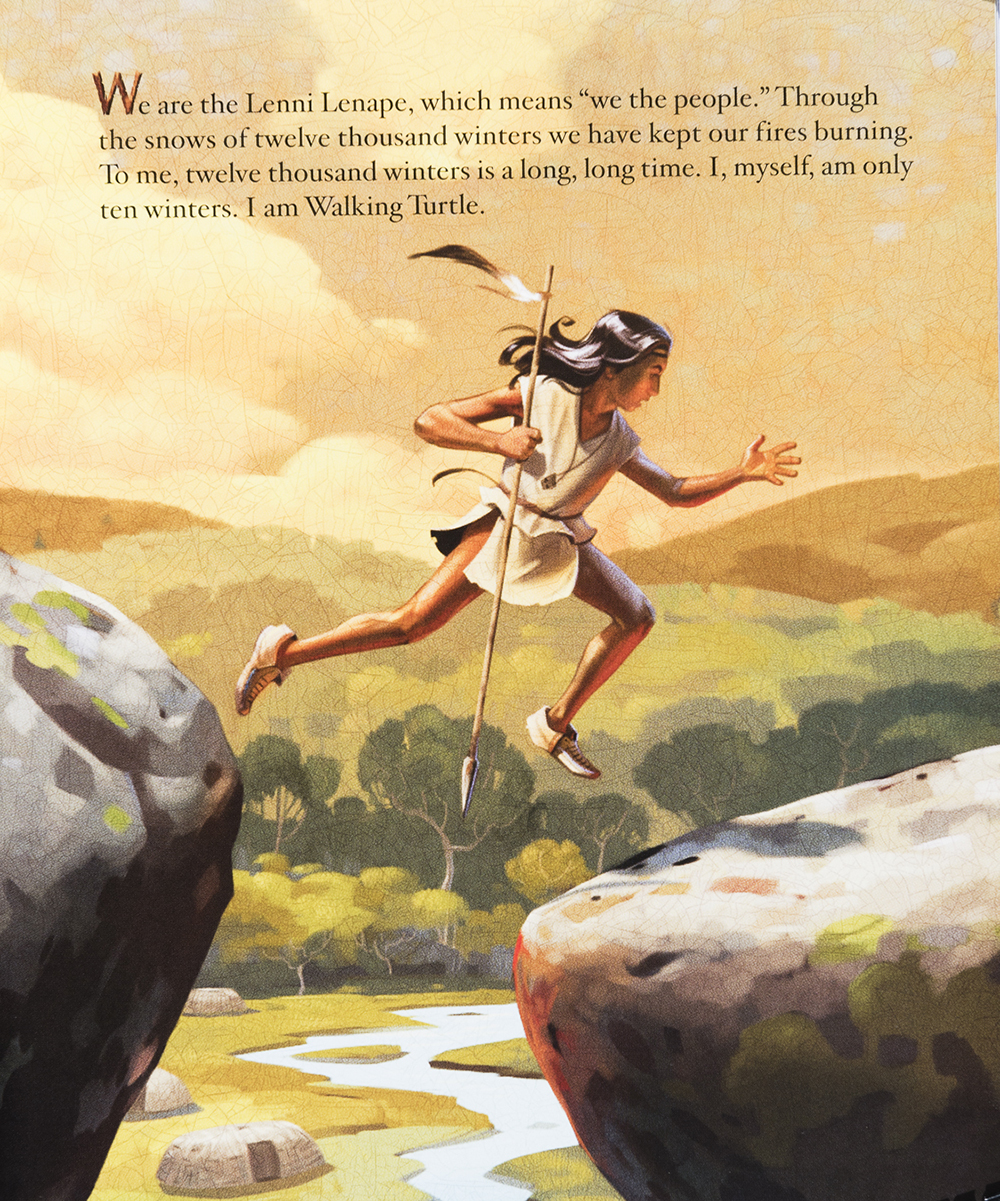 "A marvelous story that rings with strength and wisdom…this selection excels."
– Books to Buy, Books to Borrow by Kendal Rautzhan, April 2012  
"Glowing paintings show the bond between the two boys set against the landscape and customs of their community, including the dramatic Giving Thanks Ceremony in the Big House, when their leader tells them to be caretakers of their great land. A moving glimpse of what has been lost."
– Booklist, May 2012
"…romanticized tale is a pleasant introduction to the Lenni Lenape. Nicely painted views of the surrounding terain, daily activities, and the boys (Walking Turtle and Little Talk) create a good sense of people and place…"
– School Library Journal, May 2012
"In my opinion, the hallmark of a truly great picture book is its ability to captivate the parents as well as the children. A well-written, beautifully illustrated picture book should be just as engaging for the parents to read aloud as it is for the child to hear. The People of Twelve Thousands Winters meets my criteria for an enduring classic picture book. I loved this book, as did all of my daughters." – Tess Hamre, The Old Schoolhouse Magazine: For Homeschool Families, May 2012
Nominee for the Pennsylvania Keystone to Reading Elementary Book Award 2013-2014 (Intermediate)
Available at Amazon.com, BarnesandNoble.com and your local independent bookstore.