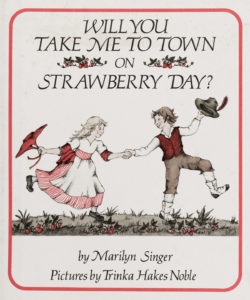 WILL YOU TAKE ME TO TOWN ON STRAWBERRY DAY?
Written by Marilyn Singer
Illustrated by Trinka Hakes Noble
Harper/Collins, 1981, ISBN 0-06-025737-7
There's so much to see and taste and do on Strawberry Day in June – ride on a hay cart, play scissors-and-stone, drink rosy-hip tea!
Young readers will be delighted as the joyful verses (set to music) and marvelously detailed pictures transport them to a long-ago time to sample the fun of a country fair.
Available at Amazon.com, BarnesandNoble.com and your local independent bookstore.