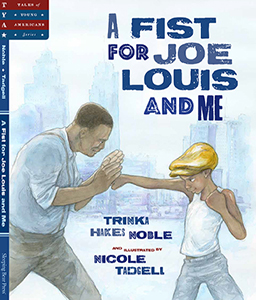 A FIST FOR JOE LOUIS AND ME
Written by Trinka Hakes Noble
Illustrated by Nicole Tadgell
Sleeping Bear Press, August 2019
ISBN-13: 978-1-53411-016-8
Set in 1938, the story follows two Detroit boys who are inspired by their hero, legendary boxer Joe Louis, as they face the hardships of the Great Depression, the rise of Nazi Germany, and a schoolyard bully.  For more details, click on the cover image of this new Tales of Young Americans book, published by Sleeping Bear Press.
"I can't wait to read this!!  I know just where to fit it in with my Social Studies curriculum!" – Lisa Barry, 4th grade teacher, Frost Elementary School, East Brunswick, New Jersey
"Trinka Hakes Noble deserves recognition for introducing a time that sent people dancing in the streets–white and black–in recognition of our hero Joe Louis." – Michigan Boxing Hall of Fame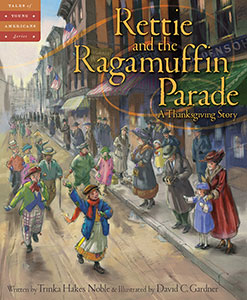 Rettie and the Ragamuffin Parade
Written by Trinka Hakes Noble
Illustrated by David C. Gardner
Sleeping Bear Press, September 2017
ISBN-13: 978-1-58536-960-7
In 1918, a deadly influenza pandemic was sweeping across America.  It ravaged families, leaving thousands of children orphaned.
But in the tenement apartments of New York City's Lower East Side,  one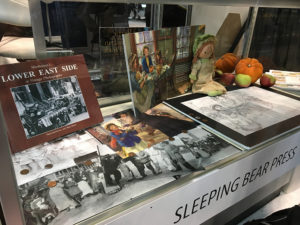 young girl is determined to keep her family safe.  When her mother becomes sick, Loretta "Rettie" Stanowski does all the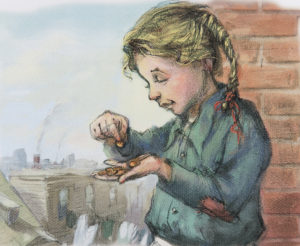 cleaning, washing, shopping, and cooking for her family.  To earn money, she cleans the apartment building's halls, stairways 
and stoop, and washes rags for the ragpicker.  But Rettie is anxiously waiting for the Thanksgiving Day Ragamuffin Parade and penny scramble.  When children held out their hands and asked, "Have you anything for Thanksgiving?", fancy uptown people would give them a penny.  Rettie was hoping to get lots of pennies. She wanted to buy something special for their Thanksgiving dinner.
But with the influenza outbreak, quarantines are ordered and large gatherings banned.  Rettie was worried.  Would the Ragamuffin Parade be cancelled too?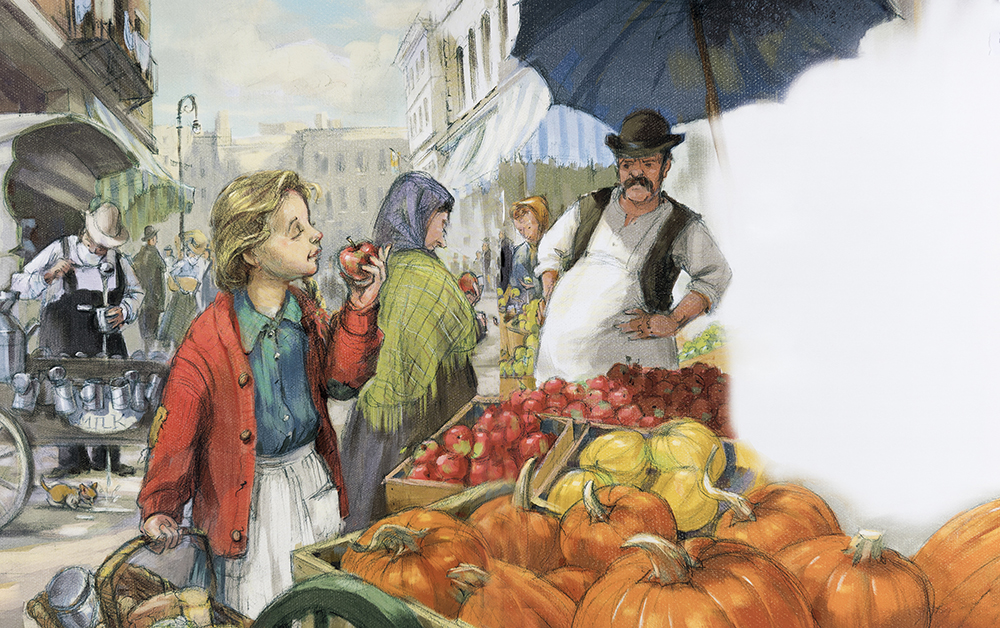 "Noble's tale of parades and tenement life positively brims to overflowing with good cheer, culminating on Thanksgiving Day 1918. Gardner's full-color illustrations depict a bustling community where good spirits overcome bad happenings.  All ends well in this parade filled with good spirits and optimism." – Kirkus Review, July 2017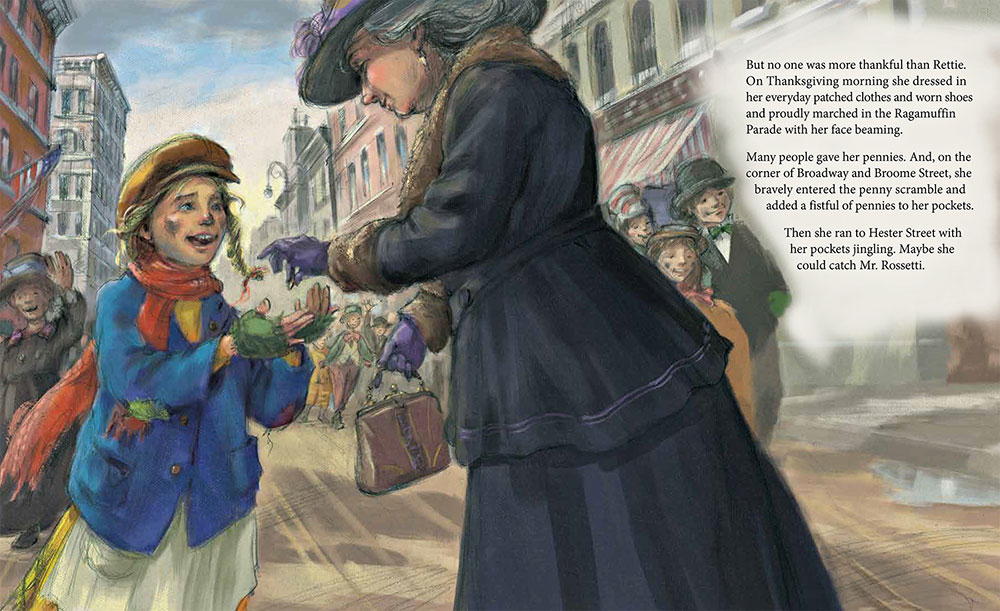 Available at Amazon.com, BarnesandNoble.com and your local independent bookstore.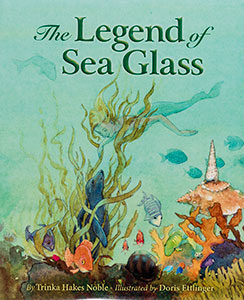 THE LEGEND OF SEA GLASS
Written by Trinka Hakes Noble
Illustrated by Doris Ettlinger
Sleeping Bear Press, 2016
ISBN: 978-1-58536-611-8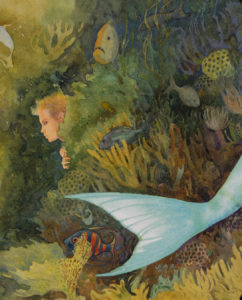 Long, long ago there was a time when mankind did not venture into the deep ocean waters.  It was believed that the world was flat and to sail beyond the horizon meant falling off the edge of the earth.  Yet, they were drawn to the ocean.
Far below the ocean's waters lived mysterious and magical sea creatures, half girl and half fish.  These shy, gentle creatures were called mermaids and were much loved by the ocean.  And when people finally overcame their fear and ventured out to sea, risking disaster and even death, it was the mermaids who came to their rescue.  This imaginative legend explains the origin of sea glass, that treasured, collectible gift from the sea.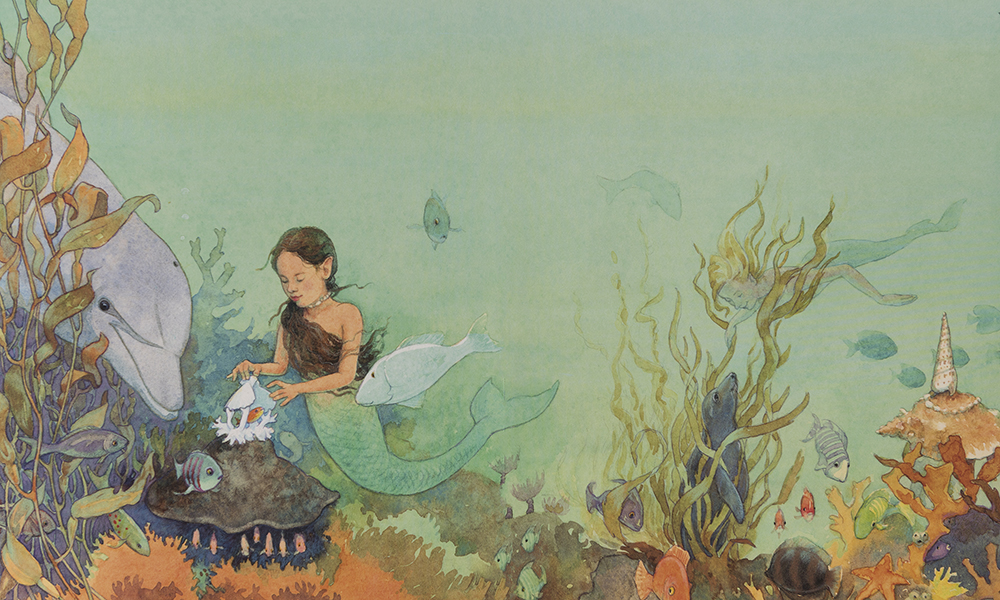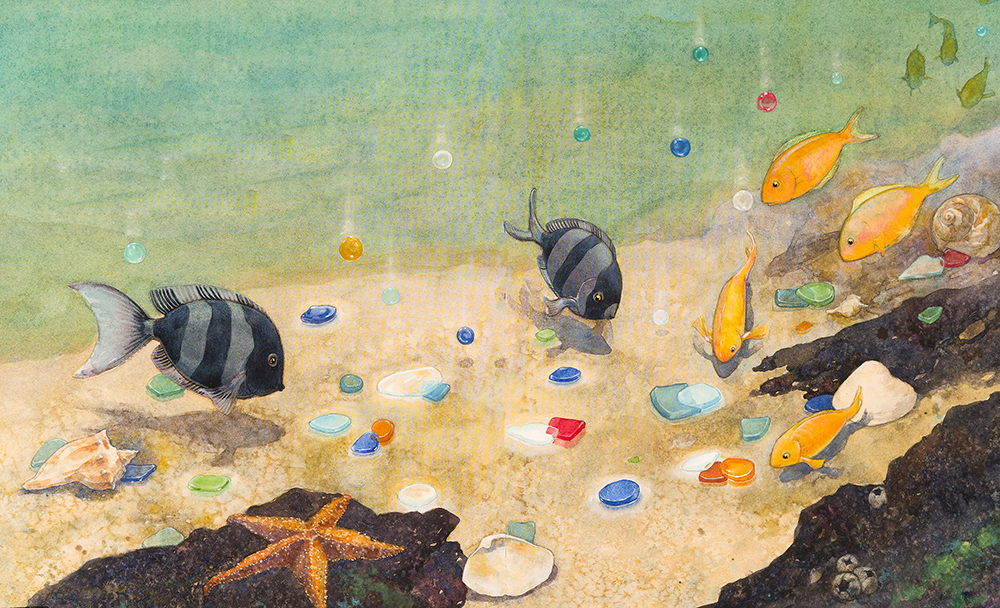 Available at Amazon.com, BarnesandNoble.com and your local independent bookstore.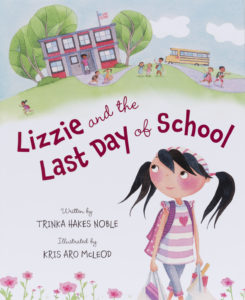 LIZZIE AND THE LAST DAY OF SCHOOL
Written by Trinka Hakes Noble
Illustrated by Kris Aro McLeod
Sleeping Bear Press, 2015
ISBN: 978-1-58536-895-2
Lizzie loves school.  She loves it almost more than anything.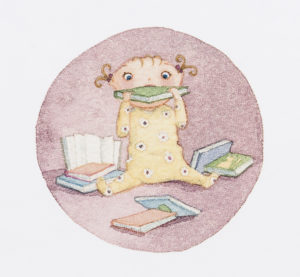 When the time comes for Lizzie to start first grade, she can't wait.
"It's your first year of school," her parents tell her.  And Miss Giggliano, the first grade teacher, tells her class to make this the best year of school ever.
Yippee! thinks Lizzie–a whole year of school!
And what a year it is! But all great things must come to an end.  When the last day of school arrives, Lizzie is dismayed.  It was supposed to be a whole year!  But good news soon arrives and Lizzie, along with Miss G., finds herself in a different classroom and eager to learn!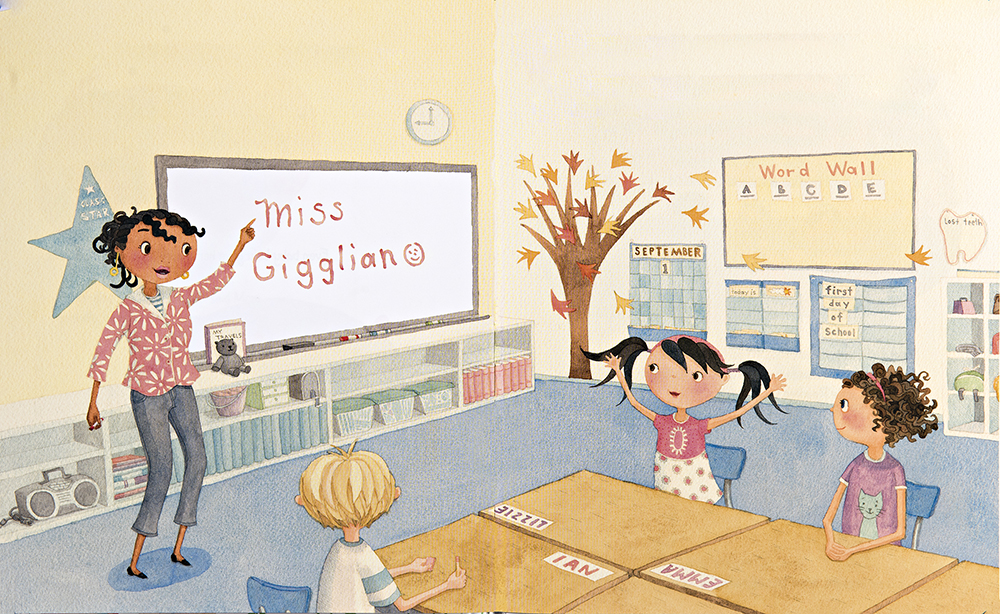 "A girl's love of school is more than evident in this latest from Noble.  McLeod's round-headed, rosy-cheeked characters share their every emotion, especially Lizzie and Miss G. on the final day. …Lizzie's joy in school is infectious. (Picture book. 5-7)." – Kirkus Review, January 2015
"Noble tells a good story, bolstered with details that make Lizzie's thoughts and emotions believable.  When Lizzie returns to school to hug Miss G. good-bye is unexpectedly poignant.  McLeod's colorful artwork illustrates the settings, the characters, and their activities with finesse.  An appealing picture book for reading aloud." – Booklist, February 2015
"An engaging selection for those eager to learn students."  –  School Library Journal, March 2015
"This book is perfect for those who love school and hate to see it end!" –  San Francisco Book Review, March 2015
"An excellent addition to public and elementary school picture book collections." –  Children's Bookwatch, April 2015
"Great lessons to be learned from this book about developing a love of learning." –   Homeschooling, www.thesimplemoms.com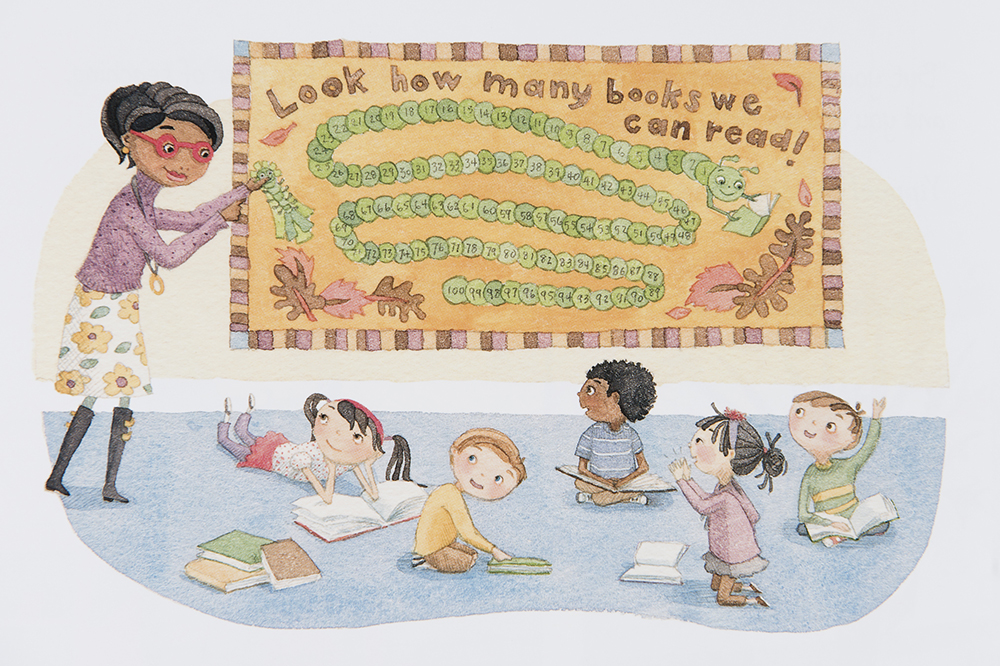 Available at Amazon.com, BarnesandNoble.com and your local independent bookstore.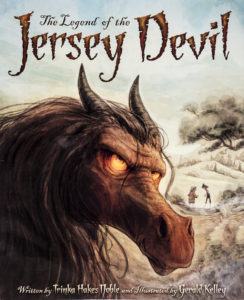 THE LEGEND OF THE JERSEY DEVIL
Written by Trinka Hakes Noble
Illustrated by Gerald Kelley
Sleeping Bear Press, August 2013
ISBN-13: 978-1-58536-837-2
The Pine Barrens in New Jersey has long been a place of mystery, with its dark pine groves, black swamps, and dank bogs.  Reputed to be haunted, it's an unsettling place. But of all the mysterious happenings and sights in the Pine Barrens, none are as intriguing as the Jersey Devil!  Since its first sighting in 1735, local lore has it that a "devil-like" creature with the boney head of a horse, the wings of a bat, and the hooves of a goat has caused all manner of trouble. Trinka weaves a spellbinding tale of the origins of the Jersey Devil. Illustrations by Gerald Kelley bring the tale to spooky life.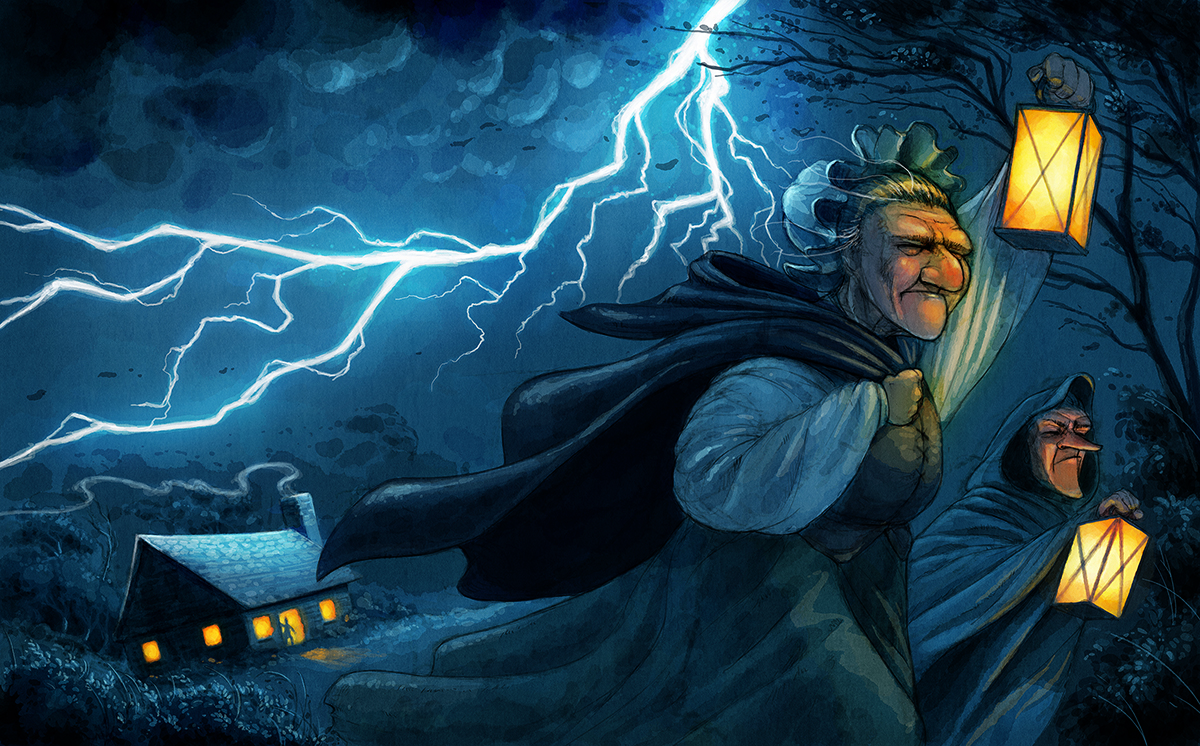 "A delightfully spooky picture book rendering of the famed Jersey Devil legend. Suspenseful, with captivating illustrations.  (Picture book/folktale. 6-10)" – Kirkus Review, June 2013
"…few of the Jersey Devil origin stories are as delectable as this one. Much like the story of Sleepy Hollow, the folktale's plotlessness contributes to its authenticity and spookiness. Kelley's scarily exaggerated, under lit, and perpetually frightened villagers make nicely fearful foes for our fire-breathing beast. Ideal for Halloween."  – Booklist, July 2013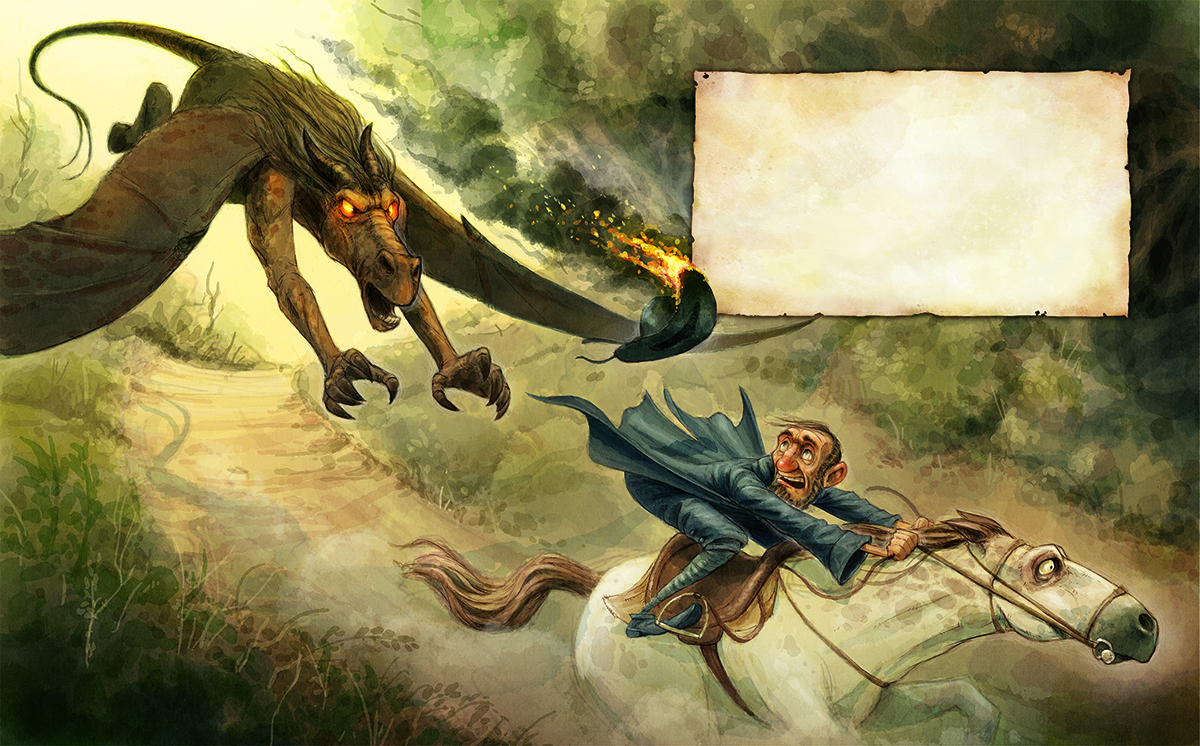 New York State Reading Association Charlotte Award Nominee – 2016
Available at Amazon.com, BarnesandNoble.com and your local independent bookstore.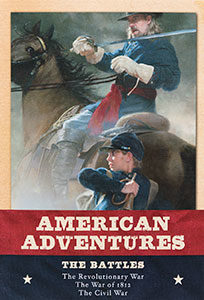 AMERICAN ADVENTURES: THE BATTLES
Stories written by Trinka Hakes Noble
Illustrated by Robert Papp
Sleeping Bear Press, April 2013
ISBN-13: 978-1-58536-861-7
Paperback  88p.   U.S. $9.99
The American Adventures series features a trio of fictional stories highlighting moments in history, with content from the popular Tales of Young Americans series. The Battles contains three stories focusing on key American wars: the Revolutionary War, the War of 1812, and the Civil War. The first is The Scarlet Stockings Spy, written by Trinka Hakes Noble.  The second is The Town that Fooled the British, written by Lisa Papp. The third is The Last Brother, written by Trinka Hakes Noble.
Artwork by noted illustrator Robert Papp heightens the drama, bringing to life these rich chapters of American history.
"This colorfully illustrated paperback from the American Adventures series presents stories in which children make contributions to American wars. Sometimes dramatic and occasionally poignant, the stories are always accessible. The title and cover art will help this short story collection find its audience." (Grades 3–5)
– Carolyn Phelan, Booklist Online, American Library Association, May 2013
Available at Amazon.com, BarnesandNoble.com and your local independent bookstore.