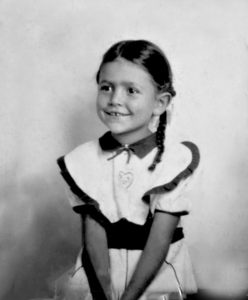 I always wanted to be an artist…
"I grew up on a small farm in Southern Michigan, one of seven children. With three boys and four girls, we put on shows, had a band, formed clubs and had almost enough kids to have a baseball team. We had creeks to wade in and fields to roam. The woods were filled with wild flowers and mushrooms. Summers seemed endless.
"My earliest memory of wanting to be an artist is the smell of crayons. Ours were kept in an old cigar box. They were broken, chewed, and well used. You couldn't even recognize the different colors, so you had to test each color by drawing on the lid. Oh, the smell when you opened that box … ahhh … and a nice sheet of white paper … my life's requirements were met!
"In second grade, something great happened. We were drawing pictures of Santa's sleigh. I worked hard on my drawing. To my surprise, my teacher, Mrs. Stanley, put only my picture up on the bulletin board because it was so good. That's when I decided to be an artist. And I did! In The Day Jimmy's Boa Ate the Wash, a teacher takes the kids on a class trip. I named her Mrs. Stanley!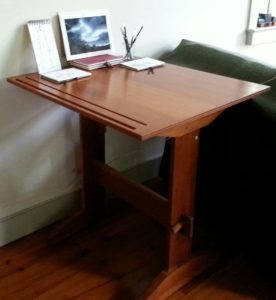 "When I was eleven, another wonderful thing happened. That Christmas, my dad made me the best present ever…a professional drawing board! I was speechless and didn't even thank him. So, when I became an author and illustrator, I thanked him in a special way by writing and illustrating Apple Tree Christmas for him.  All the illustrations for Apple Tree Christmas I drew on that same drawing board.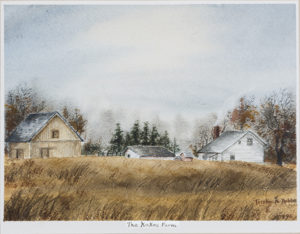 "We had the usual farm animals as well as some unusual wild animals because my mother was good at bringing up orphans. We had a little red fox named Rascal with a broken paw, tiny twin raccoons named Nip and Tuck, a hawk with a broken wing and a baby badger who liked to sleep in a bread loaf pan.  We also had four baby skunks who thought my older brother was their mother because he wore black sneakers with white stripes.  They followed him everywhere.  So, he named them after his four girlfriends!
"Animals were a huge part of my childhood, so writing stories about a kid named Jimmy who loves animals, and had a congenial thirty-foot pet boa constrictor, seemed perfectly normal to me."
Ms. Noble wrote the popular Jimmy's Boa series, illustrated by Steven Kellogg. The series has been translated into seven languages and featured on the PBS children's program Reading Rainbow and in Newsweek.  Her first book with Penguin USA was The King's Tea,  along with Apple Tree Christmas and  Hansy's Mermaid and  Meanwhile Back At The Ranch.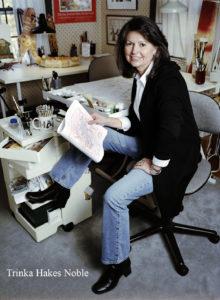 The Scarlet Stockings Spy (2004) was awarded an IRA Teacher's Choice (2005), followed by The Last Brother (2006). Apple Tree Christmas (2005) was reissued by Sleeping Bear Press in a Holiday Classic edition. The Orange Shoes was also awarded an IRA Teacher's Choice (2008).
Ms. Noble graduated from Michigan State University in 1967 with a BA in Fine Arts, then taught art in Michigan, Virginia and Rhode Island. After moving to New Jersey in 1972, she studied children's book writing and illustrating in New York City at Parsons School of Design, the New School University, Caldecott medalist Uri Shulevitz's Greenwich Village Workshop, and most recently at New York University.  Ms. Noble is on the board of The New Jersey Center for the Book and a member of the Rutgers University Council on Children's Literature.  In 2002 she was awarded Outstanding Woman in Arts and Letters in New Jersey for her lifetime of work in children's books, along with citations from the United States Congress, House of Representatives and the Senate.  In 2016,  Ms. Noble received the Author of the Year Award from the New Jersey Association of School Librarians.
Ms. Noble lives in a circa 1780 house in historic northern New Jersey. Says Trinka, "I still use the same drawing board my father made for me long ago. I still love to draw and I still love the smell of crayons!"